Er, wait. Hold on. No I didn't. Okay. Now I did.
On August 1 will be observed Lughnasadh, Lammas; or, happy whichever late harvest festival you celebrate around this time of year. Of course, there's also astronomical Sun at 15° Leo on August 7, next week, at 12:36 UTC, so I'll mention it again then. But, either and whichever way, hope you're doing something fun or at least marking these moments in the passage of time some way.
This week I added the next chapters to two of Franz Hartmann's books, did some work on the social bots, and there's also the first post to the Zine blog!
Also there's AI generative art for the week using MidJourney for the prompts "The Chariot tarot card by Steffi Grant" and "… by Jean-Michel Basquiat" and the description of Barbatos from Goetia.
Plus almanac, new and old memes, propaganda, zine, updates, quotes, reviews, and more!
And, as always, I worked on various other things on website, blog, and more … Enjoy!
MidJourney
This week I experimented with generating images using the description of Barbatos from Goetia.
(8.) Barbatos.—The Eighth Spirit is Barbatos. He is a Great Duke, and appeareth when the Sun is in Sagittary, with four noble Kings and their companies of great troops. He giveth understanding of the singing of Birds, and of the Voices of other creatures, such as the barking of Dogs. He breaketh the Hidden Treasures open that have been laid by the Enchantments of Magicians. He is of the Order of Virtues, of which some part he retaineth still; and he knoweth all things Past, and to come, and conciliateth Friends and those that be in Power. He ruleth over 30 Legions of Spirits. His Seal of Obedience is this, the which wear before thee as aforesaid.

And then I asked for "The Chariot tarot card by Steffi Grant". Hey, I knew that was probably a long shot, but I shot it. What came out seems specifically a miss on matching style, but some were generally interesting I guess.
They've "upgraded" their engine. Also, maybe even more so than before, the tool seems to want to put the named artist or someone into the art, instead of doing the style of the artist. 🤷
Well, I thought I'd try a different artist, so I also ran with "The Chariot tarot card by Jean-Michel Basquiat" and here's a couple it came up with. I think these definitely got the style but still trying to put a person in instead of making a tarot card. Well, it is an experiment, after all! Here's the closest couple of results I got.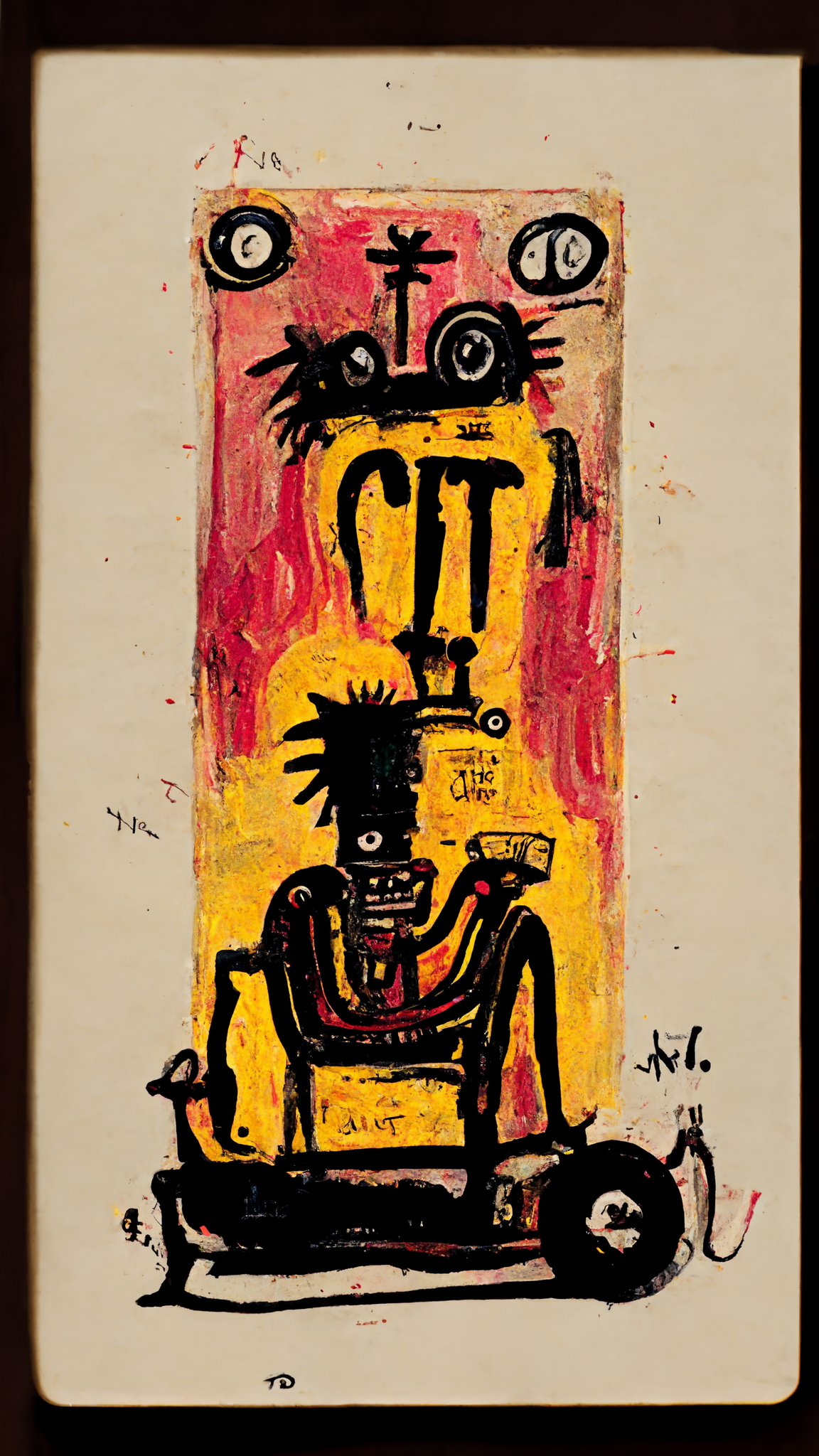 After that, I created entries in Hermeneuticon for them too. Er, wait. Hold on. No I didn't.
Okay. Now I did.
Almanac
Here's upcoming calendar and astronomical events, plus the daily Thelemic Tephilah practice for the coming week, July 29–August 5.
Calendar
Follow Calendar on the web, email, rss, and in the 'verse. And, if you have a current or upcoming event to share, add it to the Hermetic Library Calendar!
Astronomical
Delta Aquarids Meteor Shower, July 28–29
Alpha Capricornids Meteor Shower, July 30–31
"Ghost of Summer Dawn" with Orion returning in the early mornings beginning July 31
First quarter moon, August 5
Thelemic Tephilah
Follow Thelemic Tephilah on the web, rss, and in the 'verse.
Zine
Follow Zine on the web, email, rss, and in the 'verse. And, if you something you've created to share, send it in to the Hermetic Library Zine!
Things to check out at Hermetic Library
And on the blog
Also, elsewhere
I updated the Thelemic Tephilah and Calendar social bots with information about events for September. Slowly working through 'em!