Pierrot? Dat u?
Today is the last reminder, until next year, about the Magick, Music and Ritual 17 deadline which is … today. Right now. It's almost too late!
I've got a sneak peek at the current album cover, which is one I created with MidJourney whilst I was messing around. Although there's a chance I might see a couple more submissions, there's currently just enough to make both supporter exclusive and also a public issue. So stressful after over a decade to come down to the wire like this still, tbh. But, huzzah!
For my Goetia and Tarot experiments I worked with the text and seal of Zepar and The Devil tarot card using MidJourney with 4-up images here, and link to the threads on the library's social if you want to see them all, individually posted.
This week I've also got a bonus goofy set of "Aleister Crowley as a Pokémon" using a different new tool.
Plus Occult Love Fest-ursday, almanac, propaganda, new and old memes, zine, updates, quotes, reviews, and more!
Aaaaaaaand, my washing machine just now went kaput in a cloud of smoke. Yeah, the washer not the dryer. Smoked. What the hell. Okay. Hey, um, can, like, 23 people go buy the library's entire discography on Bandcamp before I run out of clean clothes?
And, as always, I worked on various other things on website, blog, and more … Enjoy!
Hermetic Library Anthology 2022
Today is the deadline for Magick, Music and Ritual 17. As I've been preparing this newsletter, another submission has come in, and I heard there might be one more on the way, maybe. So, even without those there's just enough submissions for both supporter exclusive and public issues.
Seriously, though, it doesn't seem to get easier. I guess I always figured that as time went on, and now I've been doing these for over a decade, that people would know about them and I wouldn't be stressing about having enough participation after posting about the deadline for several months. But, I was wrong, I guess. Anyhow, it's managed to come together. 😅
And, not only have I listened through the rough draft playlist several times so I'm super excited to share them with you, when the time is right, but I've also got a sneak peek at the current album covers for you. The cover for TINAHLAA-4 follows the pattern, and is basically the same as the previous, just with a different colour scheme.
However, for MMR17, I've actually got 4 different covers. I'm sharing this one I've currently got for the actual cover, and the others I'll keep as alternate and bonus for the release. As you might guess, I created these with MidJourney whilst I was messing around. I haven't done covers since the very first year, so it's been fun to do them again.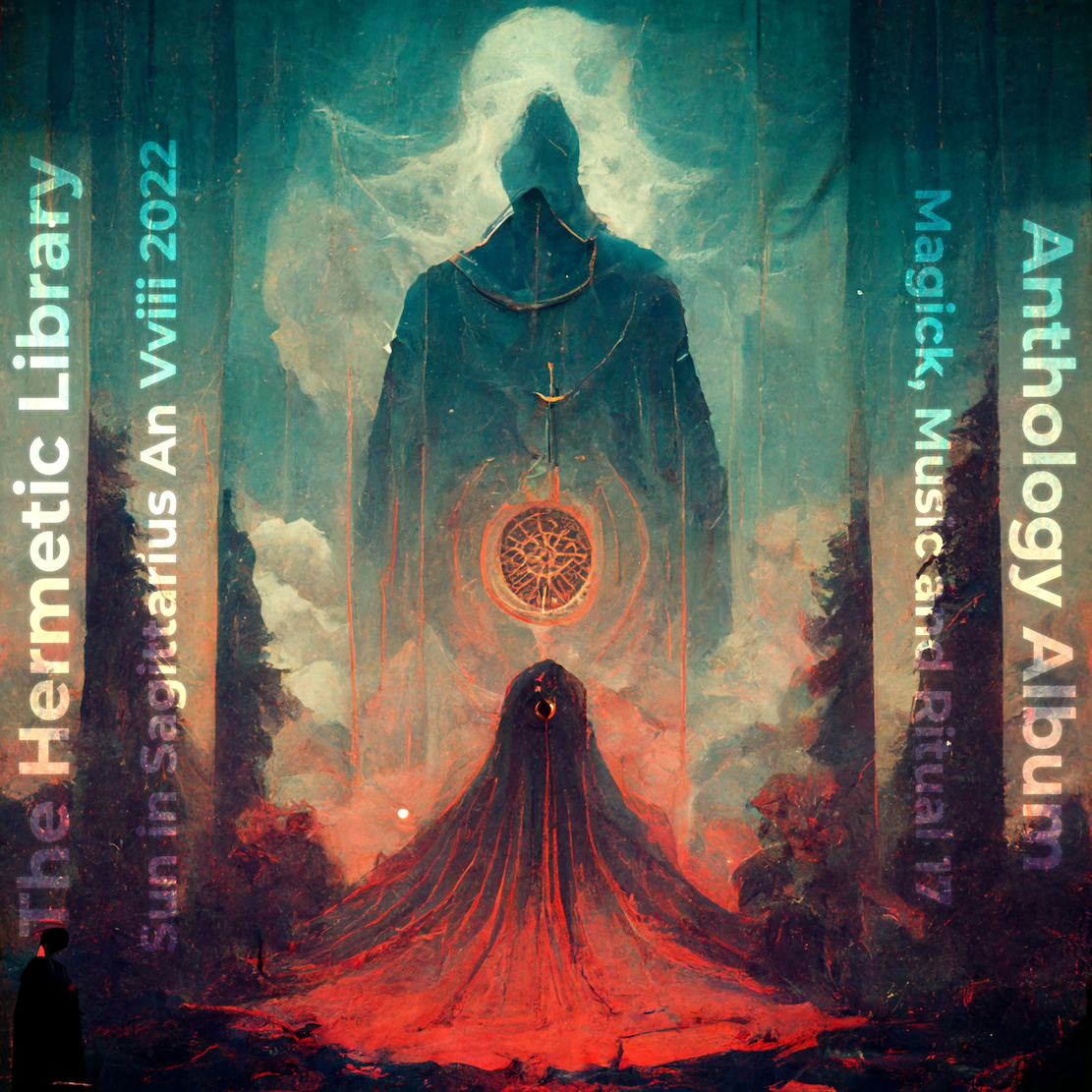 In addition to the primary covers, and the alternates for the public anthology issue, I've got 3 bonus PDF downloads of work by Larry Hall, from which I've been selecting pieces for the Zine, and he graciously agreed to offer for the anthology.
Looking good!
TINAHLAA -4 will release to as an exclusive for supporters on Patreon and Bandcamp in November at Thanksgiving. HLAA MMR17 will release on the library's birthday anniversary in December!
Hey! It's #OccultLoveFest-ursday (last Thurs o' the month). Let's try again! Occult roll call! Sound off! Only, not here. Come join the thread over on the library social account in the 'verse!
MidJourney
This week I did experiments with text and image prompts for Zepar, from Goetia.
(16.) Zepar. – The Sixteenth Spirit is Zepar. He is a Great Duke, and appeareth in Red Apparel and Armour, like a Soldier. His office is to cause Women to love Men, and to bring them together in love. He also maketh them barren. He governeth 26 Legions of Inferior Spirits, and his Seal is this, which he obeyeth when he seeth it.
I tried half of these with just the text and the other half with the text plus the image of the seal as a hint, just to see what happened. Also, again, I'll include these as 4up groups linked to the thread if you want to see more, instead of including all the huge images in this newsletter directly.
Then I ran my experiment for Atu XV, The Devil as if by Jean Metzinger. For some of these I also gave it one of Metzinger's paintings as a hint. And, I accidentally ran one set in the wrong aspect ratio, but kinda thought some of those were cool anyway, so I've ended up with 3 sets of 4 this time around.
Once again, I've been spreading these images out at a couple a day, so the thread of tarot card experiments for this week is only just started atm.
And then I created Hermeneuticon entries for Zepar and The Devil.
My egregore can beat up your egregore.
Aleister Crowley as Pokémon
A totally bonus bit of silliness this week is that there's a new generator text-to-pokemon that (surprise surprise!) takes text prompts and turns that into Pokémon, so, of course, I ran "Aleister Crowley" through it.
Aleister Crowley's final form! Atu 0, The Fool!
Pierrot? Dat u?
Almanac
Here's upcoming calendar and astronomical events, plus the daily Thelemic Tephilah practice for the coming week, September 30–October 7.
Calendar
Follow Calendar on the web, email, rss, and in the 'verse. And, if you have a current or upcoming event to share, add it to the Hermetic Library Calendar!
And, nothing new for upcoming events posted to the Calendar blog. So, you know, consider adding some!
Astronomical
Last week I mentioned the Zodiacal light. My mom read that and when on a search safari, where she found this article, about something else that may be of interest: "Equatorial aurora: the aurora-like airglow in the negative magnetic anomaly"—"Nomenclatures of nonpolar aurora or equatorial auroras are similar to those used with the polar auroras owing to their similar excitation mechanisms. This paper provides an overview of the knowledge and the challenges concerning auroral activity at the South Atlantic Anomaly, or more generally, at the negative magnetic anomaly."
Last chance to locate the Cat's Eyes, two stars in Scorpius, facing southwest at twilight 10° below the Moon, October 1
First quarter Moon, October 2
Look at Moon for the linear shadow of the Straight Wall fault crossing Mare Nubium, October 4
Draconids meteor shower, October 7
Mercury especially easy to find at dawn, about an hour before sunrise, beginning October 7
Thelemic Tephilah
Follow Thelemic Tephilah on the web, rss, and in the 'verse.
Zine
Follow Zine on the web, email, rss, and in the 'verse. And, if you something you've created to share, send it in to the Hermetic Library Zine!
Things to check out at Hermetic Library
And on the blog
Geb: Holy fuck
Geb: Holy fucking fuck
Geb: That body of yours is absurd
Nut: …
Shu: **stares in father of his daughter**
Heh deities: 👀