I guess, um, I don't use it much, eh?
Hey there! Happy (upcoming) Halloween, Samhain, or soever you celebrate at this time of year around the sun! And, don't forget that you can celebrate on the observed date Oct 31/Nov 1, this week, and also next week for astronomical ☉ at 15° ♏︎ (Sun at 15° Scorpio), which occurs Nov 7 at 10:36 UTC this year. Also, the whole week. And, the entire rest of the year. As I'm wont to say: It's always Spooky Season in your heart, if only you want it to be.
Also, 92 is pretty close to 93 innit? Like, so close to each other they could kiss.
This week I mostly worked and am still working on some behind the scenes stuff. I've got to migrate the actual library site, and that's a super big pain to do. But, whilst I'm still working on that, I also finished adding stuff in time for November to both Calendar and Thelemic Tephilah bots for the social accounts in the 'verse.
For my generative art experiments, I worked with text and seal prompts for Purson in Goetia, and text and image hint for The Sun tarot card as if by John Singer Sargent. I've got with 4-up grids here from MidJourney and DALL-E, and I link to the threads on the library's social if you want to see them all, individually posted.
Plus almanac, propaganda, a meme, zine, updates, quotes, reviews, and more!
And, as always, I worked on various other things on website, blog, and more … Enjoy!
MidJourney
I generated art based on text description and seal image prompts from Goetia this week for Purson.
(20.) Purson. – The Twentieth Spirit is Purson, a Great King. His appearance is comely, like a Man with a Lion's face, carrying a cruel Viper in his hand, and riding upon a Bear. Going before him are many Trumpets sounding. He knoweth all things hidden, and can discover Treasure, and tell all things Past, Present, and to Come. He can take a Body either Human or Aërial, and answereth truly of all Earthly things both Secret and Divine, and of the Creation of the World. He bringeth forth good Familiars, and under his Government there be 22 Legions of Spirits, partly of the Order of Virtues and partly of the Order of Thrones. His Mark, Seal, or Character is this, unto the which he oweth obedience, and which thou shalt wear in time of action, etc.
I finished posting the previous series and started this one on Tuesday. Here's some takes on both text and image prompts from MidJourney.
And these images were generated from only the seal image.
I'm only going to bother upscaling the top row, I think, unless, maybe, I do the fourth, final one too. Plus, I tried only the text prompt using DALL-E
DALL-E kinda when ham all over this one this time, eh?! Hey, and that's not nearly Eurocentric this time too.
I then started a thread on Thursday with stuff generated from text and image prompts for The Sun tarot card as if by John Singer Sargent. Find out more about John Singer Sargent and I used his image of Hercules and the Hydra as the visual hint.
Here's grids of what I got for this card.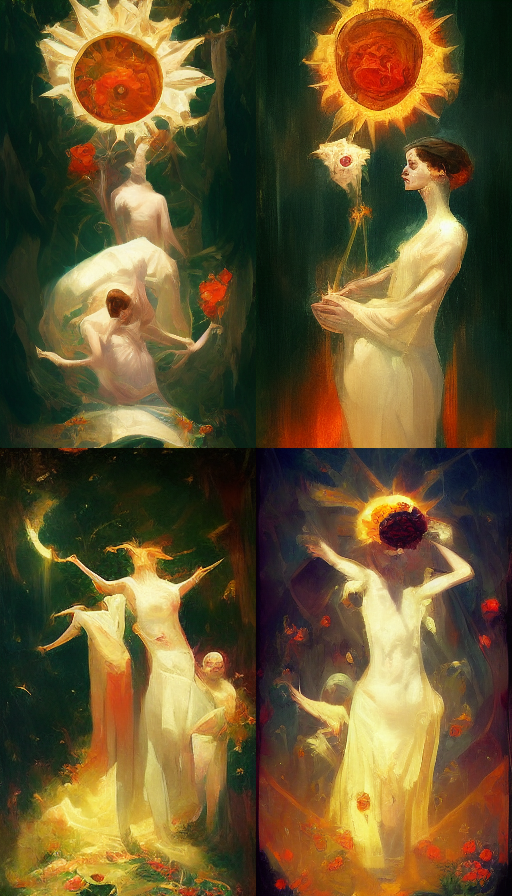 And, a set from DALL-E.
Hey, DALL-E actually came up with images way more like the intended artist than other have so far, I think.
I've also created new entries in Hermeneuticon for Purson and The Sun.
Almanac
Here's upcoming calendar and astronomical events, plus the daily Thelemic Tephilah practice for the coming week, October 28–November 4.
Calendar
Follow Calendar on the web, email, rss, and in the 'verse. And, if you have a current or upcoming event to share, add it to the Hermetic Library Calendar!
And, check out this upcoming events posted to the Calendar blog.
Astronomical
Moon at perigee (closest to earth), Oct 29
First quarter moon, Nov 1
Taurids meteor shower, Nov 4–5
Thelemic Tephilah
Follow Thelemic Tephilah on the web, rss, and in the 'verse.
Zine
Follow Zine on the web, email, rss, and in the 'verse. And, if you something you've created to share, send it in to the Hermetic Library Zine!
Things to check out at Hermetic Library
And on the blog
Also, elsewhere
The library has a new easy to use and remember YouTube handle and url https://youtube.com/@hermeticlibrary which finally sorts out some long standing naming problems that have existed since Google+ was a thing and I ended up with two accounts for each profile, for stupid Google account reasons. Egads. It has really been 10 months since my last thing there. I guess, um, I don't use it much, eh?
Monster Black Hole is my new death metal band name and Silently Minding Its Business is our album title. First track is a cover of John Cage's 4′33″.