I did a double take, then my brain melted into a puddle and leaked away.
Time to take a look over the last year and do a little retrospective! I look back at all the stuff I remember doing, and include here by reference anything I forgot about.
Plus, there the usual weekly stuff, like Goetia, tarot, almanac, propaganda, memes, calendar, zine, updates, quotes, reviews, and more!
And, as always, I worked on various other things on website, blog, and more … Enjoy!
So, that's a wrap! This is the last newsletter for the arbitrary location of earth in its orbit around the sun. See you on the flip side of the earth relatively near this general location! But, whatever you celebrate in this season, thank you for being here and following along with Hermetic Library in this newsletter and anywhere else you do, and, most of all, I wish you and yours well and weal in this upcoming trip around the sun!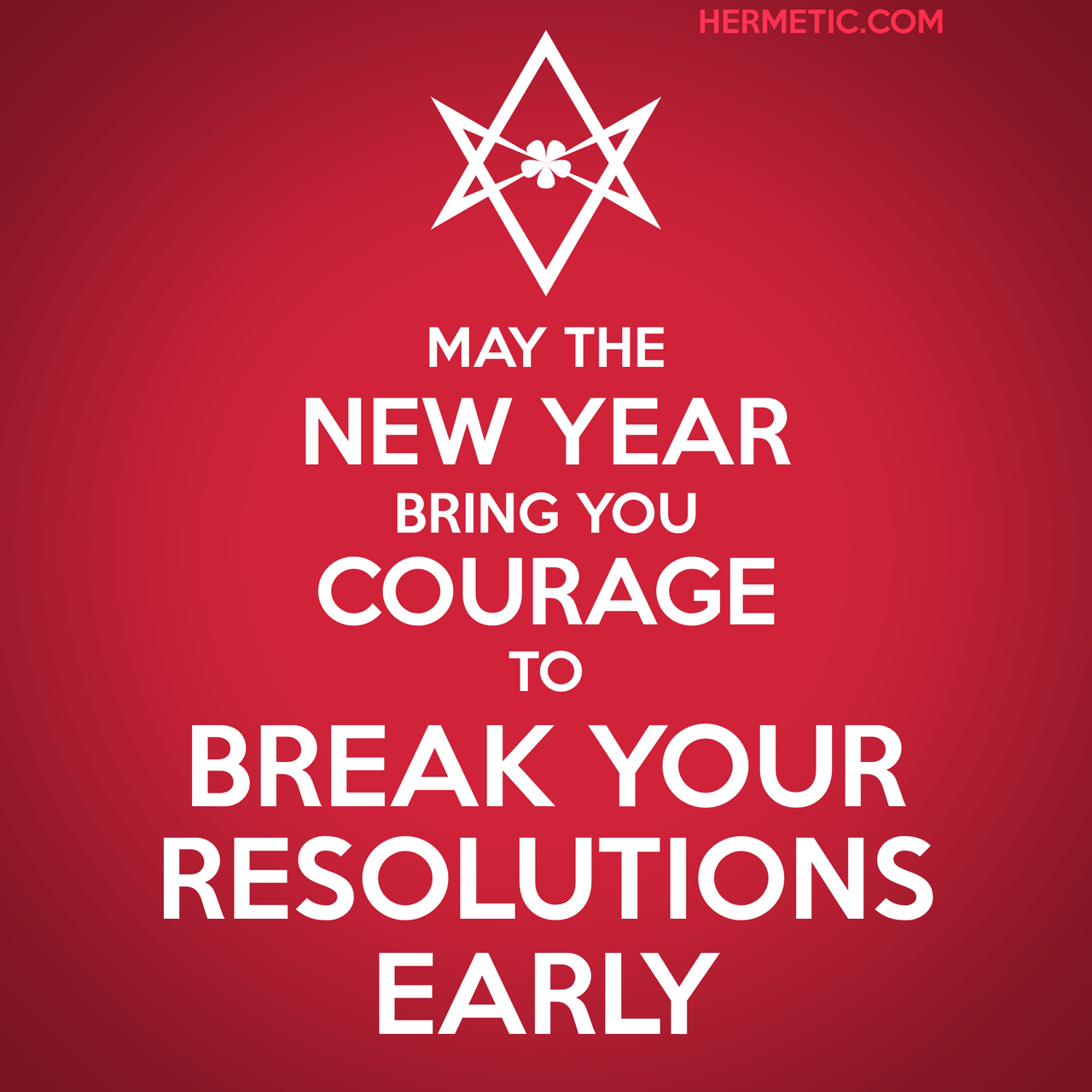 Whew, it's been a year!
Another one. Boy and howdy. Amirite?
Hermetic Library site, per se
If I look at the library site itself, I see over 666 changes in the last year. That's close to averaging 2 changes every day, of various kinds. So, over all, I was able to keep up a relatively good overall pace of updates, improvement, and additions.
One of the projects that I specifically wanted to work on over the last year was to start paying more attention to adding entries to Hermeneuticon. And, I think I did a lot of good work there, both new pages and changes! Definitely got to add a lot of new regular entries, and started to add pages with lots of images for each entity in Goetia and each card in Book of Thoth. There's currently a total of *checks notes* 1141 pages in just Hermeneuticon alone! Those are entries of all types, of course, but it is still a lot. And, by the end of this newsletter there will be two more, when I add this week's Goetia and tarot.
Cats
I said goodbye to two library cats this year, dear members of the Hypotenuse Pteropus family, and it's hard to even write more about that. In April, I said goodbye to Ereshkigal. Then, Mars.
Saying goodbye to Beesknees last year and Mars this year was not entirely unexpected, as they both were very old, but still hard to do and I miss them both. But, saying goodbye to Ereshkigal was unexpected, and was particularly painful.
For their part, the other library cats have been adjusting and seem to be enjoying the extra food in each portion now that each wet food can is split between fewer friends. But, I think I can tell, every once in a while, a look or action from them where they expected someone else to be around still. Especially Huginn. Sister Muninn and cousin Blòt are joined at the hip, with Mu having years ago taken up a role as surrogate mother to her younger cousin which continues. But daughter Huginn was so often found close to mother Ereshkigal. She's been having a hard time adjusting to being alone more than she's used to from before. She's been struggling to find her new place and acting out a bit from a need for suddenly missing interaction. So, I've been trying to give extra attention to Gin (we've always enjoyed a good game of catch, sometimes also fetch when she's into it, using milk jug rings, together), and cuddle her that much more. That's helped us both, tbh. The other library cats, Ranga and Orcus, have also been adjusting to the new arrangements, but are managing well.
Fellows
I welcomed Laura Gibbs as a new Fellow in January. I've been addinga few more of her tiny 100-word tales about Nasruddin and the Sufis to the site each month since.
In May, long-time Fellow Peter Lamborn Wilson / Hakim Bey passed, and for the first time ever a Fellow on the site became a new Figure.
Newsletter
At the end of January 2023 it will be two full steady years of this weekly newsletter! So close! You can go back and check them all out for a reminder of everything past, and you can look forward to the start of another year coming up. I'll keep going, as long as I am able!
First newsletter in the old list archives from 2021 is Hermetic Library Newsletter – Issue #50 (Hey, babe. Wanna come up to my place and see my Supreme Secret currency mining rig?). The last, except for a brief farewell note, was Hermetic Library Newsletter – Issue #66 (Goodbye to Twitter & Revue, Facebook & Instagram! Introducing Hrmtc I∴O∴!).
Unfortunately, those archive links will cease to function some time early next year because Revue, which was purchased by Twitter before I started using it, is being completely closed down as part of Twitter being destroyed, but luckily after I stopped using it for all but an archive of those sent through it.
I have some hope I'll soon be able to point somewhere else for the issues sent through Revue, to either a permanent static archive I set up or I'll have those imported into the existing newsletter service, and so they will be all together. But, neither of those alternate backups are set up yet. That's obviously a problem for future me … near future me, like future me in a month or so. Oy.
Then, in April this year, I worked to moved the newsletter to my current service in time for May's first email. I've mentioned this before but the new service has the extra benefit of being an Open Source tool that I can, if I want, host myself, though I'm currently subscribed with the creator for hosting to take a little of the load off my shoulders and also to help support further development on the tool.
The first newsletter on the new list service, at the beginning of May, was Hermetic Library Newsletter – Issue #67 (I'm not sure what I'm doing (still!), but I'm doing it (again!)) and you're reading the last issue for this calendar year right now.
Anthology Project
I released TINAHLAA-4 for Thanksgiving, a special gift from the Anthology Project participants and me to all those who are ongoing supporters, at Bandcamp as Subscribers or at Patreon as Patrons.
Then, on the December anniversary of the registration of Hermetic Library's domain name, and birth as a site back in 1996, I released MMR17.
You can read all about the artists that participated on these over on the Anthology Project artist profiles, or by checking out the anthology album posts on the library blog.
This year I also released MMR3 to all the digital shops and streaming platforms, and you can find it on your platform of choice. There's direct links to a bunch of them on the album's page at the library. This one joined the others released so far, which you can also find everywhere; or, check out the playlist on Spotify where I've added all of them as they've become available.
Aside from MMR3, I wasn't able to get more of the back catalog out on their 10 year anniversaries, but I hope to be able to get them out at some point. There's a few others that should have released this year, and there are another four that will reach their 10 year anniversaries next year! It's a bunch of work and expense to get those out, but I'll hope to get more of them done.
Alternatively, of course, you can listen to all of them on Bandcamp or in general rotation on MUSIC @ HRMTC. (More about that in a moment, if you don't know about it already!)
Omnium Gatherum
There were some big changes for OG this year, as I continued to do the thing but also started to open up the process a bit more.
I kinda went a bit wild with OG over lockdown and kind kept up the pace after, and it really has become a lot of effort. I've been a bit concerned that the value to Patrons and everyone, but especially Patrons, as they support the work I do on all the thing, isn't quite up to the time and effort I put into them; and maybe I should be focusing on something else. However, whilst in lockdown, they provided me a really good focus and distraction when I needed it most.
One of the big changes was that I've opened up the raw firehose of OG stuff I've collected, which used to go into a notes application where I'd sort through it privately to curate stuff for the blog posts. For a little while now I've been posting everything I collect to the Omnium Gatherum social media account. (More on that in a little bit, but you can check it out from the link if you don't know what it is.) From there I've been selecting and curating those things which get engagement from others. At the beginning, I was kind of judging my own engagement, but it has gotten to the point where more than enough other people are responding to things so that I can just go with it.
But, the amount of both items and effort that goes into OG on a weekly basis is getting a little out of control, especially now that I'm pulling these from everything posted to the public OG social account that gets feedback. I need to think about this a bit, but I might be moving back to multiple times a week again, or, more radically, I might consider going the other direction and sunsetting these curated posts because of how much time and effort goes into them that I could be using to work more directly on the library site. If I sunset the curated posts, I might also consider reclaiming all the time I spend on posting things to the social account. This one took all day to finish, and that's only putting it together not to mention all the work every day that goes into it. This amount of effort on something that is indirectly library related, just not sustainable without at least some changes. I'll see what seems and feels right, in future. Ultimately, I'm contemplating some changes again in the new calendar year but don't know what that will or won't look like yet.
Merch
Merch was a disaster. I almost completely dropped the ball. Though I did create the Occult Love Fest logo merch this year, and some other stuff for new and exiting Patrons did go out over the months. for example the "4 hours for Work, 8 hours for Rest, 12 hours Do what thou wilt" mini print was made and sent out. But, not nearly as much as I have hoped I would get done.
I also completely gave up on the merch shop at Threadless. It was just a whole lot of work to add things there but only two people ever had enough interest to pick up something, and of that I only get a minor fraction of a cut of any merch income from there. It was nowhere near making it sustainable to do. There's still some really cool stuff there, if I say so myself. Though I've never been able to afford to pick up anything for myself!
I also created the MERCH @ HRMTC site with links to all the goods & apparel & music & publications & more. This is so there's landing pages that I completely control, in case I end up needing to switch services, and thus linking somewhere else for such things.
Postal Exchange
Gods, I really dropped the ball on this too. Like totally. Even more of a disaster than merch. I'm looking back and don't think I managed to get a single postal mailing out this year. That's bad. I'm not happy with myself for not being able to get out any, let alone regular, postal exchange stuff. This is something I have to seriously consider. There were a couple things that happened that interfered with doing it, but I have to also admit that it's been a struggle for a while now. I either need to do something different or decide that it's not going to be a thing. That's something I'll be thinking about for next year.
I do have piles of stuff to send out, and I had hoped to get something, at least one thing, before the end of the year. That effort was foiled by shipping delays on some things I wanted to include. As I write this, I now have everything, so I just need to get it all together and sort myself out to get the first mailing out in too long, some time in January.
What shall I do about it after that? I'm not sure. I've got some ideas. Well, we'll see. But, it's a thing that I need to figure out better.
Giveaways and special offers
There was one new giveaway this last year! It was some great stuff from Occult Femme that I listed over on Patreon for supporters on a first-come, first-served basis. And those were supposed to go out in the next postal exchange that *checks notes* didn't happen yet. Well, okay then.
I continue to hope for other neat collaborations in future, but, obviously, the one that did happen was caught up in my postal exchange hiccups!
RADIO @ HRMTC
In February, I introduced the RADIO @ HRMTC site for Hermetic Library's two listener supported 24/7 Internet radio stations MUSIC and TALK!
On MUSIC, I've got every track from the Anthology Project, including support exclusives, in general rotation. On TALK, I've got all the podcasts, including TCTC and Reader's Theatre, in general rotation.
In addition to adding this year's new anthologies when they released, I welcomed some content partners. On MUSIC, I welcomed Phineas Narco's The National Cynical Network and Seidmen. Over on TALK I also welcomed David Raffin.
I also did a listening party for Blasting Rod's new release Of Wild Hazel, early on in March and again as a release party in June.
For now, I'll continue to work on those over time, and I'm open to new content partners and other fun.
But, it's a big expense to run these and they aren't nearly as popular as I feel they should be to justify them existing. If I had infinite resources I'd just keep 'em running, and maybe … even start up an Internet TV station?! But, I don't. Whether to keep going with these is something I may have to make some hard choices about in the new year.
Consider how you can help spread the word about these to others who might want to know about them, or who would like to participate. If you want to help keep these going, consider becoming a Patron and let me know these stations are something you specifically want to support directly.
Cloudflare
In March, I migrated behind the scenes domain registration away from Tucows to Cloudflare. One of the things this has helped with adding new tools I can use to mitigate an occasional DDoS attack, but also increase overall security and disaster resilience and recovery.
Beleth
In September, I summoned Beleth, a new server to join the team, and retired Buer. This took over hosting everything except for the library itself, including static sites, WordPress blogs, and also the new social media automation bots that I set up or wrote.
Social Media
This year, I've completely left big social media behind. At the end of April, I spun up Hrmtc I∴O∴ an instance of Mastodon in the ActivityPub fediverse, or as I like to say, in the 'verse!
And, there's a bunch of account there to follow, not the least of which is the main Hermetic Library account for the Librarian. (Hey, that's me!)
Fraternity
In March, I added a new a "web of trust" element to the existing Fraternity section of the library, which has been "A Place for Friendship and Mutual Support", where I could include people with reason to be there that want to be folk-verified by me, and I'll list accounts and sites where they can be found.
Like I said at the time:
I've never been willing to just do plain link exchange because that got icky and SEO-spammy fast everywhere, so I've avoided it, but I've been trying to do Fraternity better. Certainly, trying.

I'm not sure if I've ever mentioned this, but I was partially inspired to do it originally by find out that WitchVox was gone. I remembered how WitchVox used to have directories of trads and groups, and I've wondered if that was still something that would be useful. Part of that would make more sense in Hermeneuticon, like full and informative entries about trads, but there's also something else, a kind of curated directory element that didn't have a place yet, or, at least, I've toyed with doing in various ways over the years before (like the old featured supporter links and such on the main site, and the mostly now defunct community layers of Hrmtc Underground) but wasn't currently doing until adding Fraternity.
Most of this kind of stuff moved to social media following/followers lists, I think, so there's a lot less interest in having these as web pages. Ultimately, I didn't get much interest in that, but it's still there. And, I tried!
Zine
Introduced in June, this year I created a Zine blog and social media account as a new try at doing the Hermetic Library Zine. I'd done some in the past, more or less successfully, and published those over on the library's Itch.io page; but now there's a blog, which is on the web and RSS and can be subscribed to via email, and the social account, which is on the web and RSS and in the 'verse.
Although I didn't get an issue out since July 2021, there is definitely an issue wrapping up in time for Perihelion 2023, in January. And it's already a big one!
Calendar
Also introduced in June, I created a Calendar blog and social media account. The blog is a place for upcoming events, which people can send in or I might post if I hear about something. The social media account includes posts from the blog as well as recurring calendar events from Hermeneuticon.
So far I've not gotten much participation, but have posted events when I hear about them that sound like they might be interesting for people to know about.
Also, since this is a world-wide calendar, I tag events with country and city locations, and have a page where I've got those collected, so that people can sort for those they are specifically interested in.
The blog is on the web and RSS and can be subscribed to via email. Also each tag can be added to an RSS reader individually. Then the social account is on the web and RSS and in the 'verse.
Bots
Around July, I added Thelemic Tephilah and Oracle social media bots that post daily to their own accounts on the library's social media instance.
Thelemic Tephilah posts each day's recommended reading from the list, and Oracle bot started with posting a daily card from the Thoth deck, and then later on I added tossing staves for a daily reading from Aleister Crowley's version of the I Ching. I have plans for more additions to the Oracle, like Geomancy and Bibliomancy, but didn't get to those yet.
AI/ML
In June I started creating images for social media and the site using AI/ML tools Midjourney and DALL-E, and talking, probably a bit too much here on the newsletter.
Except for one quick old social media post about Liber GPT vel DEMIURGE sub figurâ 3 (where briefly I fed Liber B vel Magi into the thing to see what it would do next … if you're still on Twitter and following the now-private library account it's here.) and one spoofy fake Crowley poem about Cocaine in the Zine, I haven't done anything much with text based ML tools. I'm not sure I will, but if I find a useful or interesting way to leverage them I'll consider it.
Speaking of which …
Hermetic Library Tactical Materials Recovery Librarian on the solarpunk quest to liberate knowledge from all enclosures!
MidJourney and DALL-E
After leaping over last week to do John Mastodon stuff, I got back to Goetia and tarot. So, on Tuesday, I started posting a thread of images for Berith.
Then, on Thursday, I started a thread for images inspired by the description and image of Queen of Cups.
And I've now also added Hermeneuticon entries for Berith and Queen of Cups.
Don't make Stolas make you study. You wouldn't like Stolas when they're angry. This is your last reminder. Capisce?
Followers in the 'verse
Passed 500 followers on the main library account in the verse!
You can check out Sepher Sephiroth sub figurâ D, if you want, but it's kinda messy. It's never, ever, for decades now, been in good shape, tbh. I've done some work on it since I took over, but it needs a lot more attention. But, it exists!
(I gotta say, this targeted advertising is getting absolutely spooky good. Actual ad. I did a double take, then my brain melted into a puddle and leaked away.)
Almanac
Here's upcoming calendar and astronomical events, plus the daily Thelemic Tephilah practice for the coming week, December 30–January 6.
Calendar
Follow Calendar on the web, email, rss, and in the 'verse. And, if you have a current or upcoming event to share, add it to the Hermetic Library Calendar!
Astronomical
Mars at opposition, and very bright, January 1
Moon and mars close together in the sky, January 3
Quarantids meteor shower, January 3–4
Perihelion, January 4
Full moon, January 6
Thelemic Tephilah
Follow Thelemic Tephilah on the web, rss, and in the 'verse.
Zine
Follow Zine on the web, email, rss, and in the 'verse. And, if you something you've created to share, send it in to the Hermetic Library Zine!
Things to check out at Hermetic Library
And on the blog
Also, elsewhere
I added a Perhelion 2023 tag to everything currently on the blog, which means there's now an issue Hermetic Library Zine January 2023 which will wrap up on Perihelion 2023, and download the new ashcan ePub with everything so far, except for images. [Zine Blog/Public]
I added Locations page to the Calendar blog, broken out by two-letter country code and city name. That means there's now a list of all the locations from events posted on the blog but also that it is now easier to find them all. Also, whilst this has been the case already, you can follow one or more of the tags individually, if you don't want to follow the entire blog, in your RSS reader. Just add /feed/ to the end of each tag page, for example, thus: Online RSS. [Calendar Blog/Public]
Anthology news, December 30 [Bandcamp/Followers]