♬ Action cat, moving quick, lookin' good ♬ passing through your neighborhood ♫
This week I've welcomed Crocell as a new trainee on the team of machines that run Hermetic Library stuff. Crocell is an experiment that I'm going to be trying to consolidate a few things, in order to reduce costs. Not to jinx it, but I'm hoping that will help me economize at least at least a little bit, if not more. We'll see how it goes and if I can do what I'm hoping will work. I don't have much else to say about that right now, but it's been a big part of my week.
Plus, there the usual weekly stuff like almanac, propaganda, memes of cats and things, calendar, zine, updates, quotes, reviews, mail call, and more!
And, as always, I worked on various other things on website, blog, and more … Enjoy!
I worked with Discordia/Eris for a period of time, and wore this golden amber and silver apple pin daily. Most people seeing it asked if I was a teacher.
HAIL ERIS! –><– KALLISTI –><– ALL HAIL DISCORDIA!
MidJourney and DALL-E
This last week, I post generated images for Astaroth from Goetia and Prince of Cups in Thoth tarot. Here's my 4up-grids of Astaroth, linked to the ongoing thread on social media with the upscaled versions.
And, here's the 4up grids for the Prince of Cups series, linked to the ongoing thread.
And, I've now also added the new Hermeneuticon entries for Astaroth and Prince of Cups.
Random Sunday diorama. What's going on here?
Almanac
Here's upcoming calendar and astronomical events, plus the daily Thelemic Tephilah practice for the coming week, January 13—20.
Calendar
Follow Calendar on the web, email, rss, and in the 'verse. And, if you have a current or upcoming event to share, add it to the Hermetic Library Calendar!
That's it? Yeah. That's all I've got. If you know of any events that should be added, let me know.
And, check out this upcoming event posted to the Calendar blog.
Astronomical
Third quarter moon, January 14
Comet C/2022 E3 (ZTF) appears to have survived meeting the sun, and is on the way back to a closer approach of earth, ~Feb 1; but, will be getting brighter, and might already be visible using just binoculars. IDEK, but if you're trying to find it, this might help. Plus there's a collection of pictures linked.
Thelemic Tephilah
Follow Thelemic Tephilah on the web, rss, and in the 'verse.
Zine
Follow Zine on the web, email, rss, and in the 'verse. And, if you something you've created to share, send it in to the Hermetic Library Zine!
I've slowed down posting to one item a week because I'm low on things. I more than filled the previous issue, but now I need more submissions for this current one.
Proof of Slack. Four books reunited. One bookmark ribbon placed many years ago for reasons not clear now. And a very early something something I drew using a computer and printed out, back in the 90s.
Things to check out at Hermetic Library
I updated the page for UNCRUCIFIED DRY STICK with new downloadables, and correct a couple minor things on other pages.
I've added George Sylvester Viereck as a Figure. There's been an entry in Hermeneuticon. And, there's examples his work that I've added to The International. But, I've been slowly making my way through The House of the Vampire, and I keep highlighting everything, so I'm going to add it as a primary source on the site. Having a Figures section for Viereck is the start of that, when I finish the book, and so I can link to the library's version when I quote my highlights on the blog. However, there's not much there yet. For now, gander at what's got his byline from The International.
Added new Hermeneuticon entries for Astaroth and Prince of Cups.
And on the blog
Also, elsewhere
Summary for two weeks ending January 9, 2023 [Patreon/Public]
Library Cat Ranga lap surfing this morning whilst I work on Hermetic Library stuff. Unclear whether she approves, but she will allow it.
Uh oh. Ranga says: That's it. Enough of whatever lame "not me" stuff you're doing. If you don't pay more attention to me, I'm outta here in 3 … 2 … and, she's gone.
Library Cat Huginn has come to see what's going on over here, if anyone's using that lap right now, and maybe could she use it for a few seconds whilst passing through? KTHXBAI
♬ Action cat, moving quick, lookin' good ♬ passing through your neighborhood ♫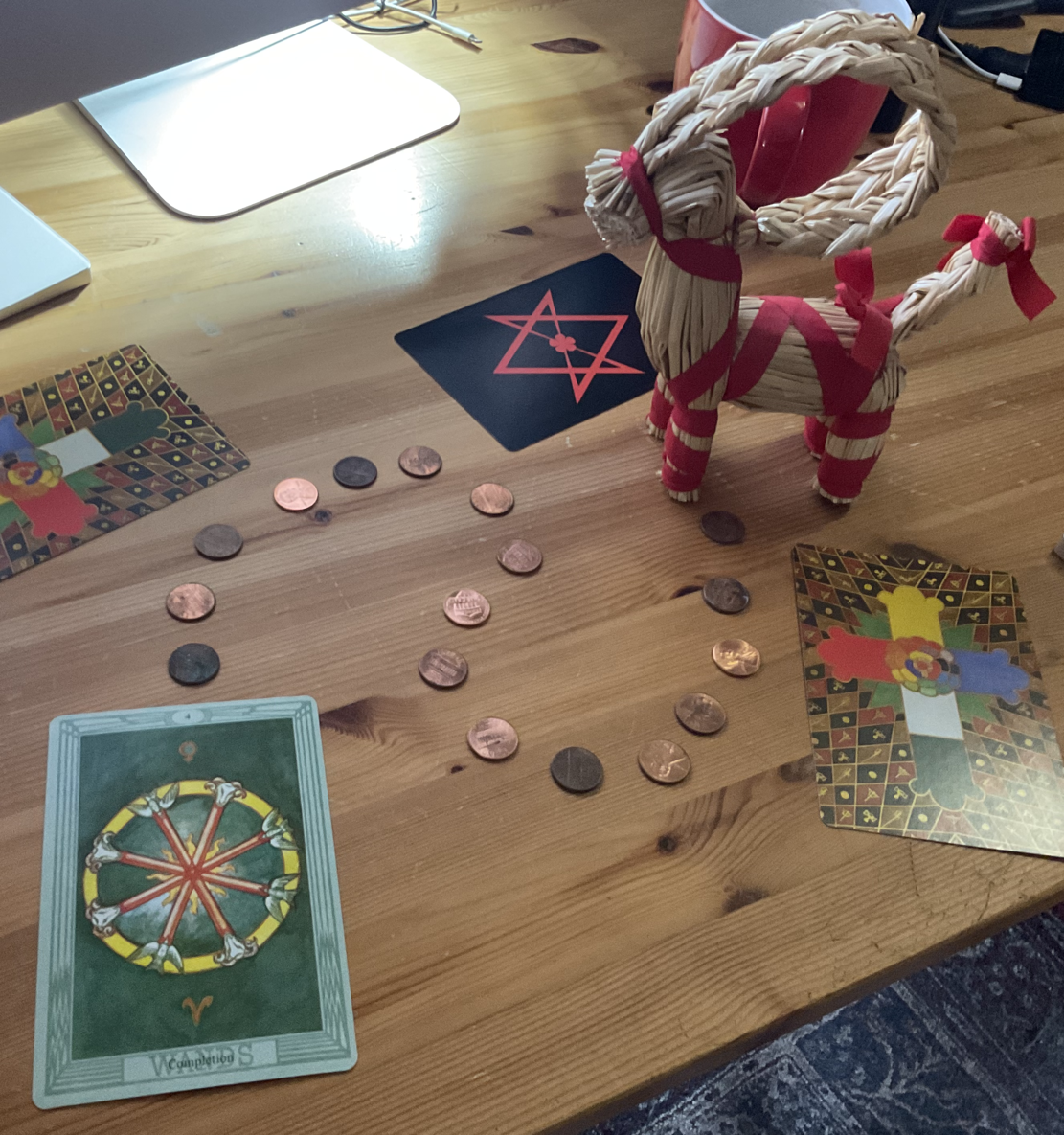 Mail call
Let's open these three envelopes that just arrived at the Reading Room!